3D Tune In Final Evaluation
By

NLKTeam

on Tue, 01/23/2018 - 21:16
The 3D Tune In team are inviting children  with hearing aids to participate in their studies in February and March. The 3D Tune-In project has developed a digital game for children with hearing aids. We are looking for children aged 8 and older with hearing aids to download and play the game and then answer a questionnaire telling us what they think.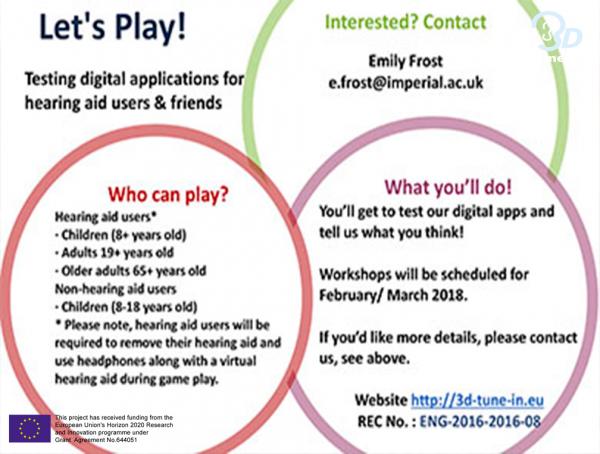 We would like to find children and their families who are willing to either attend a workshop at Imperial College London in order to participate, or use the game and app at home. 
Participating at home will require the following from the child's guardian:
The owner of, or have access to a PC with Windows or IOS operating systems or an Android device (tablets or phones) with internet access and an email address.

The owner of, or have access to a pair of headphones

Willing to download an application to their device 
People who are interested in this project should email Emily Frost at e.frost@imperial.ac.uk 
State your preference for either downloading the games to play at home or attending a workshop at Imperial College London to participate (apologies we cannot pay travel expenses).