Play & Tune
Hearing aid calibration for the elderly
---
Play&Tune is specifically oriented towards the elderly as a primary target group and towards hearing aid manufacturers and resellers as a secondary target group.
The application has been developed for PC and Mac, and allows elderly end-users to simulate a series of virtual scenes in which both the sound and a virtual hearing aid can be calibrated (e.g. a restaurant with a lot of people talking around the listener, or a noisy street, etc.) through a set of simple-to-use and engaging gaming applications. While playing, the end-users can calibrate parameters such as left-right levels, noise reduction or directivity.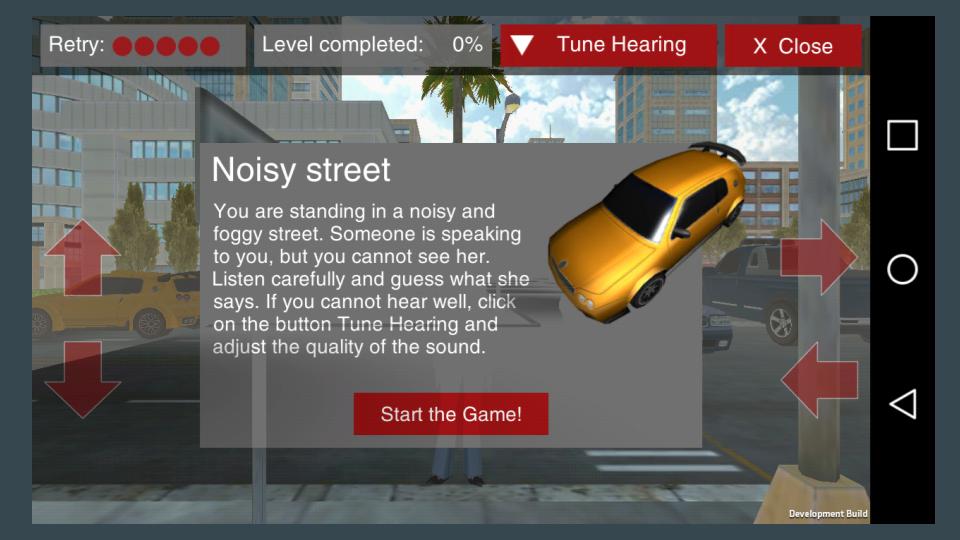 Decription of the Noisy Street scenario
An gamification scenario can be, for example, one where the player's 3D avatar is in a 3D space with other characters. These characters speak from different directions and in different contextual and environmental conditions (e.g. initially the environment is very quiet, then it becomes noisier and noisier). Within these changing environmental conditions, the player has to correctly identify the words pronounced by these characters, or provide the right answer to their questions. During the game, the player can fine tune various parameters connected to her/his hearing.
Play & Tune can be downloaded and purchased from www.hearingamestudio.com