3D Tune In - Winners at the CSO Healthcare Science Awards
By

NLKTeam

on Fri, 03/09/2018 - 09:06
On the 5th March NHS England hosted their annual Healthcare Science Awards with HRH Princess Anne as the guest of honour. The awards celebrate the outstanding and innovative work across healthcare science, and are given to NHS healthcare practitioners and scientists on a yearly basis.
Over the past three years, 3D Tune-In employed a participatory design approach, lead by the team at the University of Nottingham, aiming at improving the quality of life of hearing aid users.
The project was submitted by Emily Frost – NHS Audiologist and Research associate – for the category of Healthcare Science Partnering Patients and Citizens. After attending a judging day, Emily and project coordinator, Dr. Lorenzo Picinali, were invited to the awards ceremony and are very pleased to announce that Emily was declared the winner of the award on behalf of the 3D Tune-In team.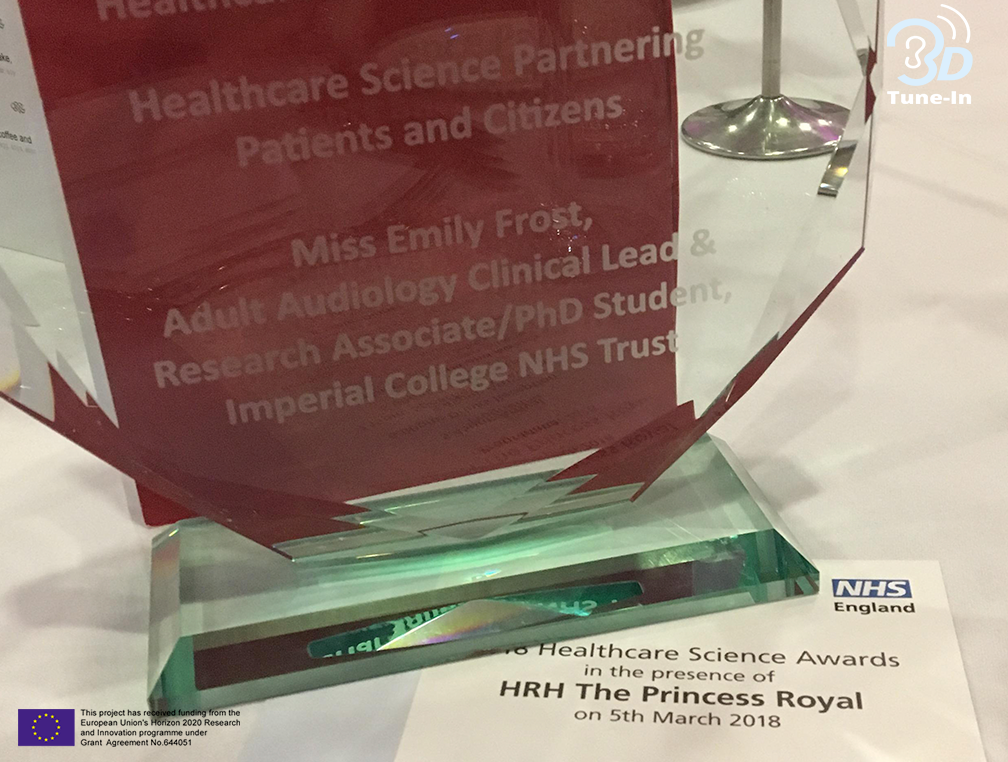 The award is a celebration of collaborative work between healthcare scientists, their patients and families to achieve shared goals. Through 3D Tune-In hearing communities, hearing aid users, audiologists, human factors experts, academics and game developers have collaborated to produce the 3D Tune-In Toolkit and a series of new non-leisure applications and video-games for hearing aid users, their communication partners and their families. The applications allow users to explore and customize different hearing aid settings for the varying environments they live in, and allow those without hearing loss to gain a greater understanding of the difficulties of living with hearing impairment.
One of the aims of 3D Tune-In is to empower patients in controlling their own hearing healthcare in an innovative and engaging way. The project has collaborated with end users from the beginning and used their ideas and their own personal goals to shape the further development of the applications. 3D Tune-In is a fantastic example of taking project development out of an academic or healthcare setting into the hearing community to ensure the final output is useful and meaningful to its users.